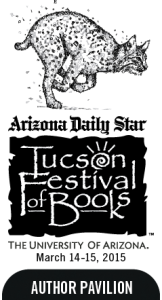 This Saturday is the perfect day for hanging out at a book festival.
Okay, ANY day is perfect for hanging out at a book festival, but I'll be signing books at this one and I'd really love to see you. Here are the details; click the link for more information on the TFoB website:
What: Tucson Festival of Books
Where: University of Arizona Campus
When: March 14-15, 9:30 a.m. to 5:30 p.m.
Cost: FREE
*I'll be at the Children/Teen Author Pavilion on Saturday from 1:00 p.m. to 3:30 p.m. with copies of The Fourth Wall. Also, with plenty of swag and other free stuff. Like candy.
Some of the amazing authors that will be presenting at the festival this year are Jacqueline Woodson, Joyce Carol Oates, Dave Barry, Katherine Paterson, and E. Lockhart. If that's not exciting enough for you, there will also be churros, root beer floats, gelato popsicles, lemonade, kettle corn, and chili dogs. Something for everyone. 🙂
In other news, a short story of mine called "Four Mile Road" will be published soon in Black Heart Magazine. I'm super excited about that; this one is very special to me and I'm happy that it found a home. I can't wait to share it with you.
See you on Saturday!