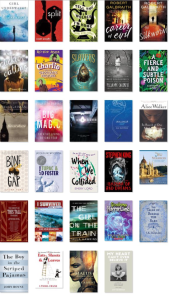 It's halfway through the year and for once I haven't fallen behind on my Goodreads Reading Challenge; in fact, I'm ahead by a month! Part of the reason is that I have more free time now that school's out, but I think the main reason has to do with one of my big goals for 2016.
In January I resolved to focus more. I wanted to work on being present in the moment, focusing on one thing at a time, and finishing the task at hand. I thought if I could discipline myself and learn to resist distractions and shut out the noise, I could accomplish more.
It worked, but it also had some side effects. Naturally, the more I tuned out the Internet in an effort to concentrate, the less I interacted with social media. And then when I did visit sites like Facebook, I became very quickly overwhelmed, and very often dismayed. The noise was so much louder.
I think all of us struggle with this. We want to share and connect and feel as though we're part of a community, yet we're drowning in it. I literally cannot process that amount of information anymore. I'd meant to take a short break from Facebook, but now I dread the thought of going back so much I honestly don't think I can.
The bright side, again, is that I'm much more likely to finish a book within a week of starting it, and I've read some fabulous books this year! In May, my son and I were at Barnes & Noble buying a birthday present for his sister and I noticed a display of discounted hardcover copies of Robert Galbraith's (J. K. Rowling's) The Cuckoo's Calling. I'd always wanted to read the crime fiction series but hadn't gotten around to checking it out. And although I didn't have the extra money, I did remember later to look up the book on my Overdrive account (I love that program).
Soon the novel was on my Kindle, and I was completely hooked. I tore through The Cuckoo's Calling in days, once staying up until three in the morning. When I finished it I immediately downloaded the second book in the series, The Silkworm, and then the third, Career of Evil. All three are fantastic, with intriguing mysteries, irresistible characters, and top-notch writing.
Some of the books I've read this year were underwhelming, especially because there was so much hype surrounding them. I expected to be impressed with The Boy in the Striped Pajamas and Miss Peregrine's Home for Peculiar Children but both left me cold (that said, I can't wait to see Tim Burton's film version of the latter).
Then there were the books that started out amazing but either fizzled out halfway through (Neverwhere) or disappointed with the ending (The Girl on the Train).
My favorite novel so far is a debut by Carol Rifka Brunt called Tell the Wolves I'm Home. It's a beautifully written story about a young girl coming to terms with the death of her beloved uncle, who succumbed to AIDS. The novel takes place in the '80s, and both her uncle's sexuality and the manner of his death are forbidden subjects. June has no one to share her grief with, until the one other person who loved her uncle as much as she did reaches out to her. This book is so lovely; I highlighted countless passages as I read. Here is one of them:
Then, into the silence, over the top of everything, came a long, sad howl. For a second it felt like the sound had come from inside me. Like the world had taken everything I was feeling and turned it into sound.
As for my own writing, I'm querying for my second book, What Was Never There, editing my middle grade novel, and of course writing essays on the endlessly fascinating topic of motherhood. This one, which explores the language we use to describe blended families, was published a few weeks ago in a new magazine called Motherwell.
Let me know what you're reading, what you're writing, or just how your summer's going!