Thanks to Jamie over at The Perpetual Page Turner for hosting another end of year book survey! Here's a recap of the best books I read this year:
Number Of Books You Read: 57
Number of Re-Reads: 3
Genre You Read The Most From: I read a pretty wide variety, but more crime fiction than usual.

1. Best Book You Read In 2016?
Adult: The Remains of the Day by Kazuo Ishiguro
A stunning reflection on a life lost to blind devotion, unquestioning loyalty, and dedication to one's work. I wanted to weep for the main character, Mr.
Stevens, who is so emotionally restrained he hardly allows himself to feel anything at all. This is a first-person novel, and the fact that the reader has complete insight into Stevens while he himself has practically none is an astonishing achievement. As a writer, I'm in awe of Ishiguro.
MG: The Girl Who Drank the Moon by Kelly Barnhill
Kelly Barnhill's prose is so fluid and dream-like it's like being under a spell, which perfectly reflects the subject matter of this middle grade fairy tale. Featuring a kind witch, a magical little girl, a fiesty but miniature dragon, and an unlikely hero (to battle the evil presence lurking in the forest, of course!), this is a delightful book, beautifully written.
YA: Tell the Wolves I'm Home by Carol Rifka Brunt
I wrote about this exceptional young adult novel in July. It's the story of a young girl named June grieving over the loss of her beloved uncle, who died from AIDS. The novel is set in the 80s, and her uncle's sexuality and the manner of his death are forbidden subjects. June feels alone in her grief, until the one person who loved her uncle as much as she did reaches out to her.
2. Book You Were Excited About & Thought You Were Going To Love More But Didn't?
There were a few, but the biggest disappointment was The Boy in the Striped Pajamas by John Boyne. This book seems so revered–I've heard it compared to Anne Frank's The Diary of a Young Girl, but it didn't come close to doing justice to its heavy subject matter. There was just too much that was implausible, and I couldn't get past the 9-year-old protagonist who sounded and acted like he was 5.
3. Most surprising (in a good way or bad way) book you read?
Malus Domestica by S. A. Hunt–in a good way! I know this author from Twitter; he has self published several books. While I wasn't surprised to find Hunt was a good writer, I was surprised, after reading this gripping and bloody horror novel last winter, that he didn't have an agent yet. I say yet because he has one now–yay! This book is awesome.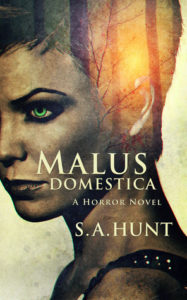 4. Book You "Pushed" The Most People To Read (And They Did)?
The Cuckoo's Calling by Robert Galbraith, the first in the Cormoran Strike crime fiction series. Actually, I pushed people to read the whole series, and a few of them did (and also loved it!) The Cuckoo's Calling is the best in the trilogy though.
5. Best series you started in 2016? Best Sequel of 2016? Best Series Ender of 2016?
The Cormoran Strike series for all three: The Cuckoo's Calling, The Silkworm, and Career of Evil. Although I did love Stephen King's Finders Keepers, the second in his Bill Hodges trilogy.
6. Favorite new author you discovered in 2016?
There were so many! Neil Shusterman, Carol Rifka Brunt, Samantha Mabry, Kelly Barnhill. I guess I'll pick Kate DiCamillo, even though I didn't technically read a book by her. My son, who is 9, read The Miraculous Journey of Edward Tulane to me this fall, which was lovely.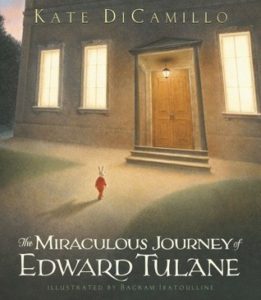 7. Best book from a genre you don't typically read/was out of your comfort zone?
I don't usually read self-help books or inspirational guides, but Elizabeth Gilbert's Big Magic: Creative Living Beyond Fear was quirky, fun and, yes, totally inspiring.
8. Most action-packed/thrilling/unputdownable book of the year?
Carrie Ann Lahain's Dead Town, which I could not stop reading once I started. It's no surprise to me, and shouldn't be to you if you've followed my blog for long. Carrie's a fantastic writer who I'm lucky to call friend (and blessed to call a critique partner). She's published novels in many genres, including historical fiction, fantasy, crime fiction, and now horror. Make this your next (or first) zombie apocalypse read–I promise you'll be glad you did.

9. Book You Read In 2016 That You Are Most Likely To Re-Read Next Year?
Jacqueline Woodson's Another Brooklyn. I doubt any year will go by without me re-reading one of Woodson's novels.

10. Favorite cover of a book you read in 2016?
The Girl Who Drank the Moon by Kelly Barnhill. I'm a sucker for middle grade; they get the best covers, don't they?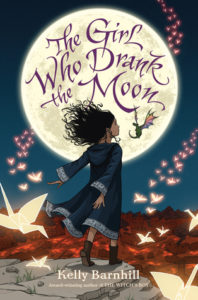 11. Most memorable character of 2016?
Mr. Stevens from The Remains of the Day. Frustrating. Hilarious. Endearing. Tragic.
12. Most beautifully written book read in 2016?
Jacqueline Woodson's Another Brooklyn. Her voice doesn't just speak to me, it sings. The Girl Who Drank the Moon is definitely a runner-up though, and I intend to read more from Kelly Barnhill this year (I've already read pretty much everything by Jackie Woodson).
13. Most Thought-Provoking/ Life-Changing Book of 2016?
Anne Frank's The Diary of a Young Girl. This was a re-read for me; I was compelled to revisit it after that gut-wrenching second week of November. It's every bit as heartbreaking and profound as the first time I read it, and helped me to find renewed hope and inspiration.
14. Book you can't believe you waited UNTIL 2016 to finally read?
The Remains of the Day. Inexcusable.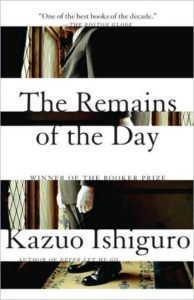 15. Favorite Passage/Quote From A Book You Read In 2016?
"Children's fiction is the most important fiction of all." –Neil Gaiman, The View from the Cheap Seats
16.Shortest & Longest Book You Read In 2016?
Shortest: The Tales of Beedle the Bard by J.K. Rowling
Longest: The EU and Neighbors: A Geography of Europe in the Modern World by Brian W. Blouet (you bet I counted my school books!)
17. Book That Shocked You The Most
Winter's Bone by Daniel Woodrell. A brutal depiction of addiction, poverty, survival, courage, and loyalty. The violence in this novel turned my stomach more effectively than most horror novels I've read.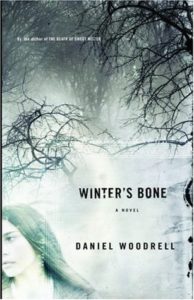 18. OTP OF THE YEAR (you will go down with this ship!)
The Princess Bride's Westley and Buttercup. OBVIOUSLY.
19. Favorite Non-Romantic Relationship Of The Year
Adult: Ree and Teardrop, Winter's Bone
YA: June and Toby, Tell the Wolves I'm Home
MG: Luna and Xan, The Girl Who Drank the Moon
20. Favorite Book You Read in 2016 From An Author You've Read Previously
The Cuckoo's Calling (although technically I've never read Robert Galbraith before, I've read plenty of J.K. Rowling. Also, have I convinced you to read this series yet?!)
21. Best Book You Read In 2016 That You Read Based SOLELY On A Recommendation From Somebody Else/Peer Pressure:
Split by Swati Avasthi, an engrossing tale of domestic violence/child abuse, highly recommended by my friend Heidi.
22. Newest fictional crush from a book you read in 2016?
Cormoran Strike. *sigh*
23. Best 2016 debut you read?
Fiction: If I Fix You by Abigail Johnson (read my Phoenix New Times' review here!)
Nonfiction: My Heart Can't Even Believe It by Amy Silverman. I've known Amy for years, and she is such a lovely person–a generous friend and amazing mother. She's also a brilliant writer, of course–well-known for her award-winning journalism. Here Amy writes the story of her journey raising a daughter with Down syndrome, and she does so with wit, honesty, and heart.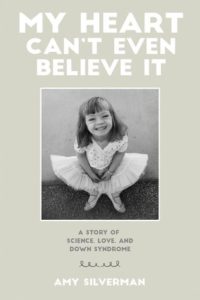 24. Best Worldbuilding/Most Vivid Setting You Read This Year?
Challenger Deep by Neil Shusterman. This 2015 National Book Award winner is about a 16-year-old boy in the throes of schizophrenia, and it is gorgeous–wholly immersive and unique.
25. Book That Put A Smile On Your Face/Was The Most FUN To Read?
As You Wish by Cary Elwes. Every fan of the The Princess Bride should read this–it's sweet and funny and not at all a celebrity tell-all (or else I would not have read it). Pure delight.
26. Book That Made You Cry Or Nearly Cry in 2016?

The Miraculous Journey of Edward Tulane. Part of what made this an emotional experience was my son reading it aloud, and not because it was assigned but because he'd heard the story last year and wanted to share it with me. Still, there's no doubt the tale itself is incredibly moving, and the writing exquisite.

27. Hidden Gem Of The Year?
Malus Domestica
28. Book That Crushed Your Soul?
The Remains of the Day

29. Most Unique Book You Read In 2016?
Challenger Deep
30. Book That Made You The Most Mad (doesn't necessarily mean you didn't like it)?
The Boy in the Striped Pajamas
1. One Book You Didn't Get To In 2016 But Will Be Your Number 1 Priority in 2017?
Scythe by Neil Shusterman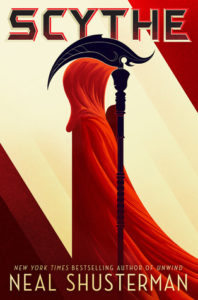 2. Book You Are Most Anticipating For 2017 (non-debut)?
Bruce Dickinson's memoir. You thought I was going to say the new Cormoran Strike book, but Cormoran's just a fictional crush, after all.
3. 2017 Debut You Are Most Anticipating?
The Hate U Give by Angie Thomas.  A timely book that addresses systemic racism and police brutality–inspired by the Black Lives Matter movement. I have heard nothing but the highest praise for this debut, which is already being made into a major motion picture.
4. Series Ending/A Sequel You Are Most Anticipating in 2017?
Okay, now I can plug the new Cormoran Strike book. DUE IN FALL.
5. One Thing You Hope To Accomplish Or Do In Your Reading/Blogging Life In 2017?
Keep a journal of favorite quotes from books, short stories and poems. I started one in 2016 and was partially successful, but my goal is one quote from each piece of writing I read this year.
6. A 2017 Release You've Already Read & Recommend To Everyone:
I don't write enough book reviews to get advanced reader copies, but I'm looking forward to reading a lot of books in 2017, and I'll recommend as I go!
Okay, your turn. What were some of your favorite reads this year? Are there any books you're really looking forward to in 2017?