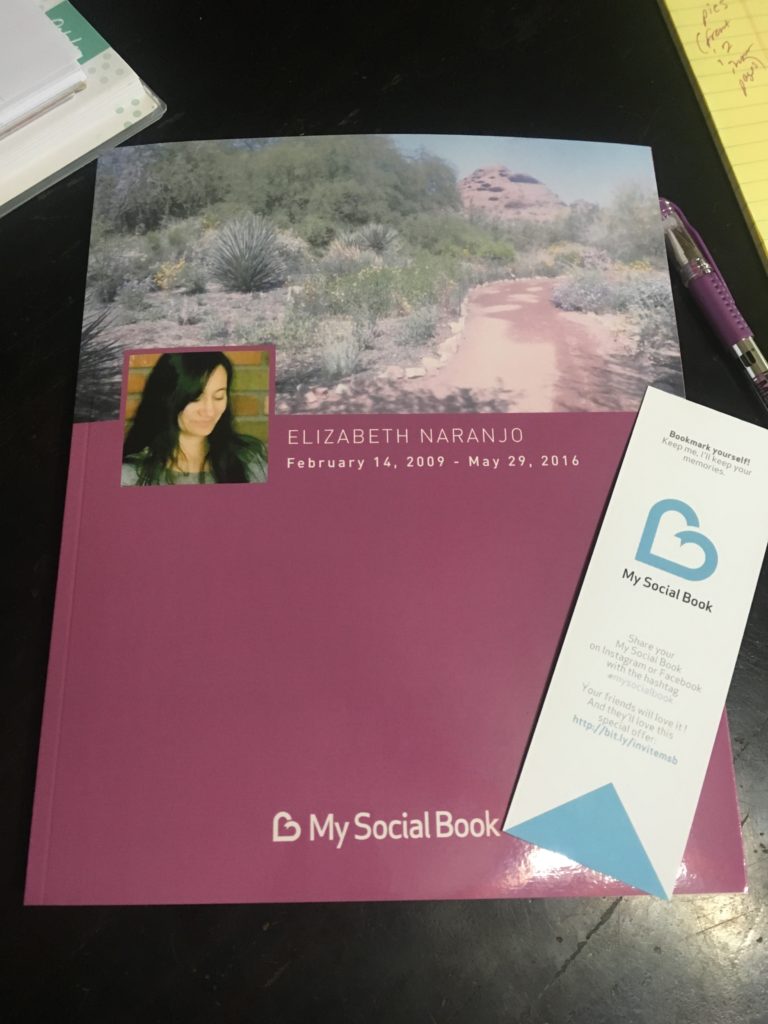 For nearly a decade, my memories were kept on Facebook. I bet yours are there too—on Facebook, on Instagram, somewhere online, or on a screen anyway. Or maybe you're better organized than I am and you've had your pictures printed and put into photo albums over the years, actual photo albums that you can hold in your hands and page through. Those are important; growing up, I never tired of looking through our family photo albums.
I left Facebook a year and a half ago, but I never deleted my account. It was like a safe in a dark closet, hidden and storing many of my favorite moments from 2009 to 2016—my wedding day, my daughter's first piano recital, my son's first day of kindergarten, the day I became a published author. Sometimes I'd think, I have to log back on and download my history, but it didn't seem too urgent, or maybe I was afraid I wouldn't be able to log back off.
A few weeks ago, I decided it was time.  I reactivated my account and within minutes had my entire history in a zip file. I copied the file to a flash drive and to my daughter's laptop, just in case, and then settled in to revisit the past.
But it was all in pieces. The photos were in one folder, status updates in another, and no comments to be found. Even if I knew how to piece it all back together so it resembled my old Timeline, it would still be on a screen, and I wanted it in print. Surely there was a company out there who did that?
There is. The company is called My Social Book, and the book they put together for me is everything I'd hoped for. Not only does it include photographs with dates and captions, but all of my status updates with everyone's comments, and even my comments to their comments (and emojis!).
I was a pretty conservative user, so my entire seven years of activity on Facebook amounted to only 344 pages and $88. When you connect My Social Book to your account, you'll know almost instantly how many status updates and photos you've posted since joining, and how many pages that generates. You can choose what goes into your book, or you can just include everything. There wasn't anything I regretted posting or that I wouldn't want my children to see, so I opted for the latter. But if there are moments you'd rather not revisit, they'd be easy to filter out; the site is very user-friendly.
You also choose your cover. I picked a simple design, displaying the background and profile picture I'd used for years, so that looking at my cover is just like looking at my old Timeline, which is sweetly nostalgic. The entire process is incredibly easy; it took fifteen minutes, and within 2 weeks I had my book, and with it, the sense of relief at owning a print copy of these photos and memories being stored on a website that I have no control over. I really recommend doing this (it works for Instagram as well).
Here are some pictures of my social book. I am thrilled with the results–paging through it makes me inordinately happy, and I love that my family has these snapshots of our life at their fingertips. The only thing I noticed missing were status updates with links, but the more personal moments were good enough for me.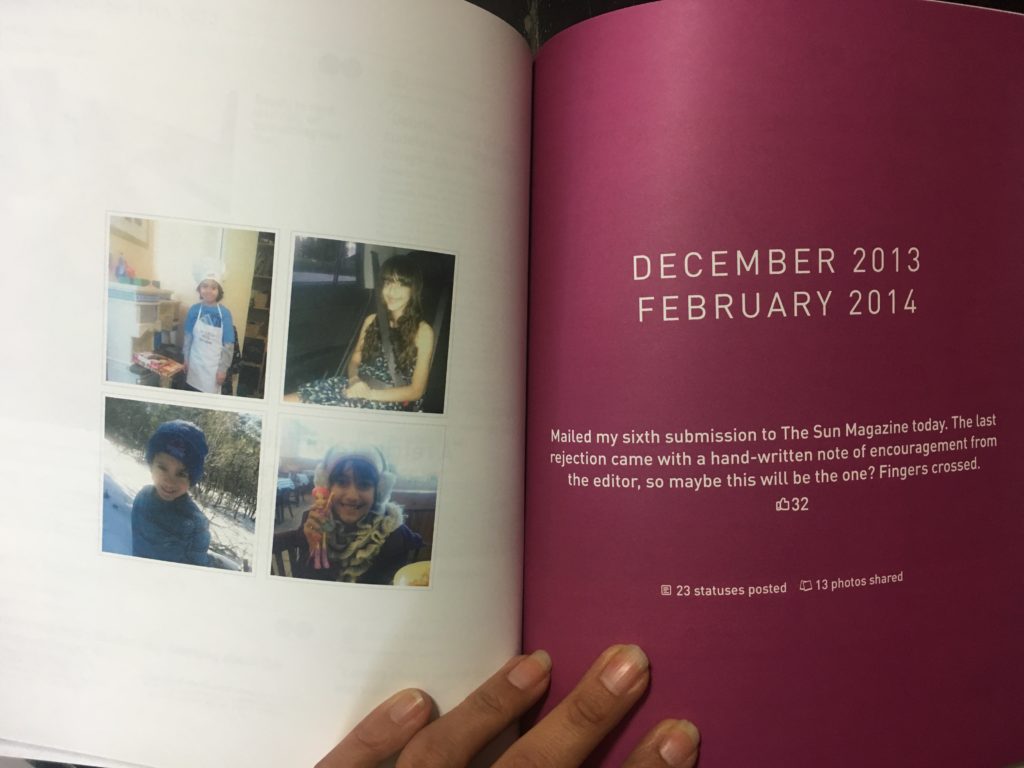 Each section begins with the most popular post for that time period.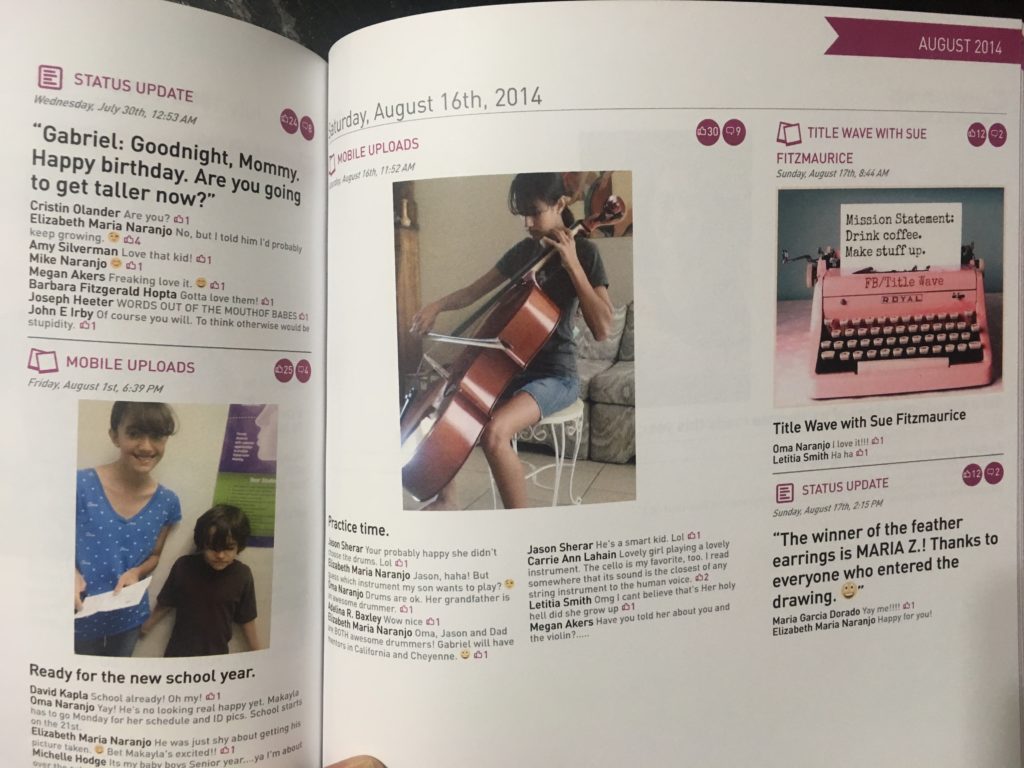 How status updates with comments (and comments on comments) look.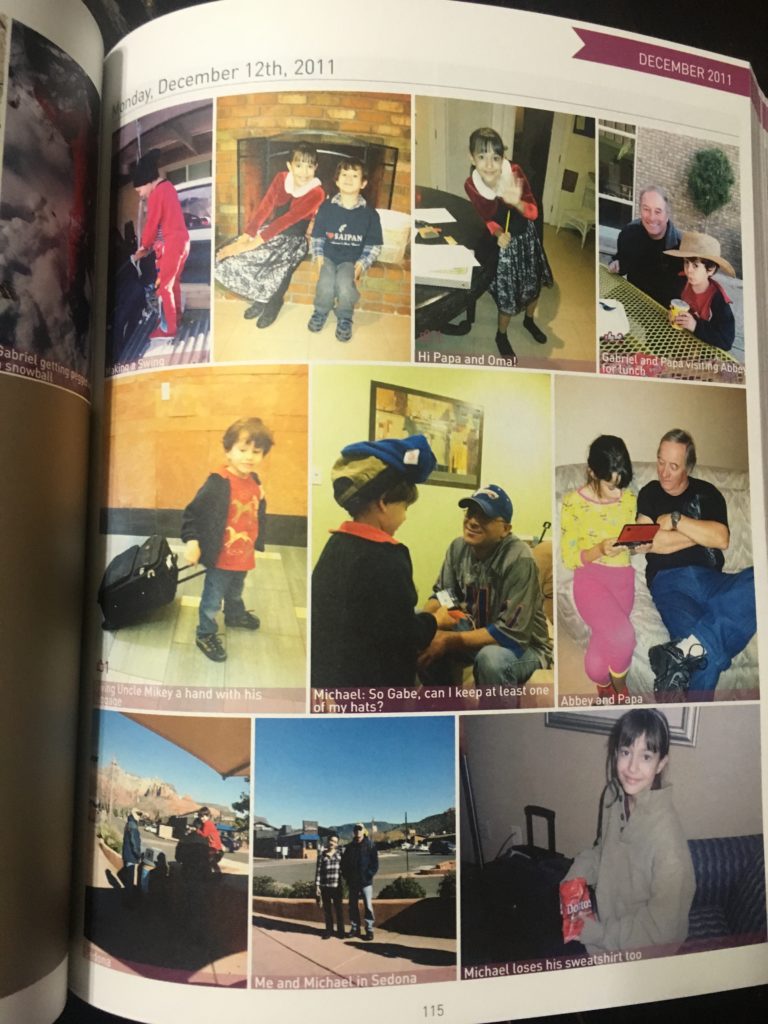 How photo albums look.
Note: I wanted to get my Social Book ordered right away, so I didn't play around much on the site or bother looking for discounts. I think you could definitely find a promo and save a few bucks on your order. And I'm sure there are lots of great features to customize your book. If you decide to order one, let me know how it turns out!