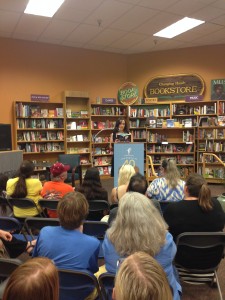 Changing Hands Bookstore did a lovely job hosting the launch party for The Fourth Wall, and my friends and family made the event a HUGE success. Over fifty people showed up; there were goodies, giveaways, and some surprise guests whose appearance threatened to ruin my mascara…but I managed to keep my game face on. 😉
Read on for details, and enjoy the pictures!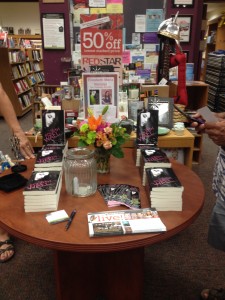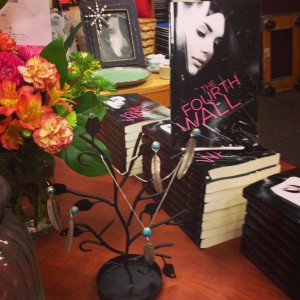 My host, Brandi, was setting up when my daughter and I arrived with the cupcakes and lemonade. Brandi had a nice display table (shown above) with copies of the book and a beautiful arrangement of flowers. The flowers, I would learn later, were a gift from my childhood bestie, Megan Russo, who lives in Kansas. For those of you who have read The Fourth Wall, you may recognize her name…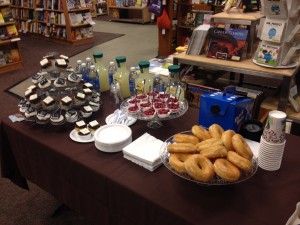 The cupcakes, made by Confection Insanity, turned out perfect. There were four dozen, each topped with a book made of marshmallow fondant. My friend, Shawna, brought donuts and coffee, and her daughter made those pretty little cherry-topped cheesecakes.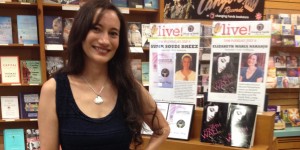 Before all the guests arrived, I stole away to the front-of-store display with Abbey. On our way back, we weaved through the aisles and checked out some groovy handbags. And that's when I spotted some familiar faces passing by in the main aisle. I grabbed Abbey's arm and said, "Oh my God. Your papa's here."
My father, who lives in central California, had texted me about half an hour earlier, wishing me luck at the launch. He and my step-mother, Oma, gave no indication they were coming, and it never crossed my mind that they would–it's a twelve-hour drive. I stood there stunned, and then noticed they had with them a very tall, very blonde young girl.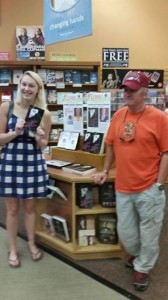 That's my niece, Makayla; I haven't seen her since she was thirteen. Makayla is now seventeen, but she hasn't changed much. She's still sweet and wonderfully silly, and she still LOVES to read. She's followed my progress on The Fourth Wall since I started writing it, and always cheered me on.
When it was time to step up to the podium, I was a little nervous. But once I started talking, the feeling disappeared. I talked for a bit about what inspired The Fourth Wall, and then I read a few passages from the novel.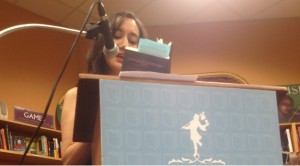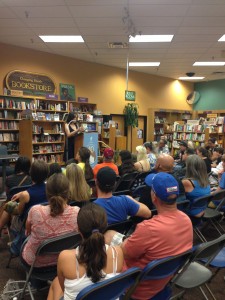 After the reading, I just wanted to mingle and thank everyone individually. But my host was urging me toward the signing table where people were lining up, and I didn't want to keep them waiting. So I asked my dear friend Amy to bring me some goodies and I dashed off to the table where I would stay for the rest of the event. See the nice plate of sweets Amy brought me?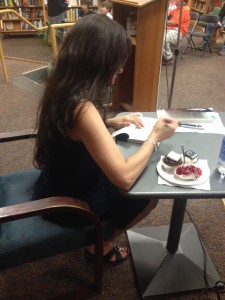 Why, yes, I am going to eat these cupcakes. Yep, the cheesecake too, sorry.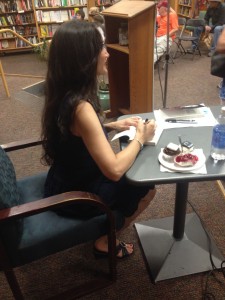 Let's get a closer look at the sweets.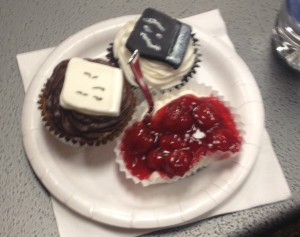 While I was signing books, Brandi drew names from a jar–three people would be walking away with the handmade prizes my husband crafted for the giveaway. I'd asked Alex to replicate a pair of feather earrings from the book. He did, along with a pendant. The first name Brandi drew belonged to my friend Shawna's younger daughter. She chose the pendant. I was glad the first prize went to this generous family who'd provided treats for everyone.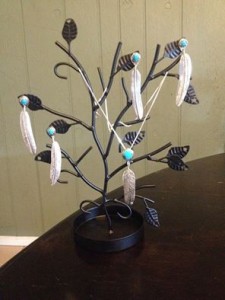 This is one of my best friends, Tyler. She didn't think she could make it to the launch because of her work schedule, but when she showed up just in time I was not surprised. That's because Tyler's always there for me; she even became an ordained minister to officiate my wedding in 2009.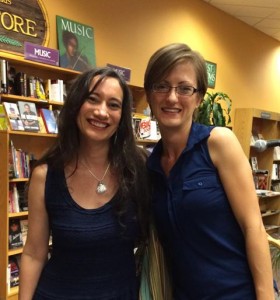 And this is Tyler's dad, Fred. He was the lucky winner of the first pair of earrings.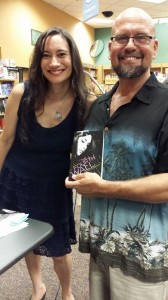 But wait, will these earrings really look good on Fred? He's quite a smashing fellow, but can he pull off this look? What do you think?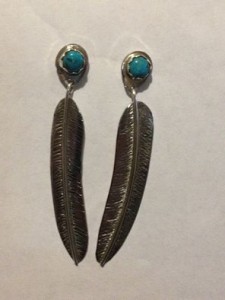 Um, maybe not. But no worries; before the night was through, Fred's wife, Kim, had the silver feathers dangling from her ears, and they looked lovely on her.
My daughter, Abigail, had the task of taking pictures throughout the evening. I'd given her my iPhone and told her to get lots of shots. I realized later that she took nearly all of them from this vantage point, as my daughter never leaves my side for long. 😉 But she DID take plenty of shots; so many my phone died. She even took pictures of people taking pictures. That's my girl.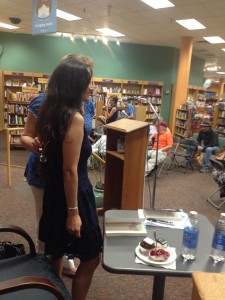 Okay, back to the giveaway. The third winner was my friend Cristin, and this made me really happy, because she had driven up from Tucson to come to the party. Cristin was all smiles when she collected her prize, and it was the perfect end to the giveaway.
This is one of my favorite pictures of the night. Those seven amazing ladies you see are all part of a workshop I take called Mothers Who Write. Each one of them has supported my writing efforts over the years, and they've shared their writing with me. That's a very personal thing, and it can be a scary thing. But when we get together and share our stories, it always feels safe.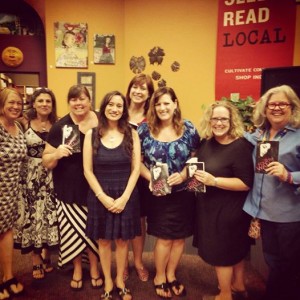 All in all the launch party was a blast. The only leftovers we had were a handful of cupcakes. We gave those to the staff at Changing Hands Bookstore, who were gracious throughout. They even hinted that I come back in January for a very special event…but I'll keep you posted on that.
Thanks for helping me celebrate!