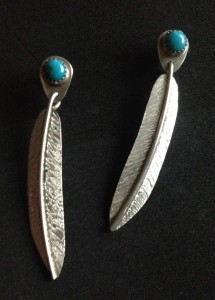 Frankie's handcrafted feather earrings from The Fourth Wall have become quite popular! Of course, it was my husband who made them, and I have ONE pair left to give away.
To enter the giveaway, just pop your email address into the subscription box for Elizabeth's Newsletter. You'll receive a confirmation email from MailChimp; once you confirm your subscription, you'll be entered into the drawing.
The newsletter will be published twice a month beginning mid-September. It will include writerly inspiration, insights into the publishing process, and discounts on classes and critiques. Your email address is safe with me, and you can opt-out anytime, so there's nothing to lose. But hopefully, you'll stick around for awhile. 🙂
The newsletter subscription box should be to your right, or directly below this post. The giveaway ends Saturday at midnight, MST, and the winner will be notified on Sunday.
Go enter, and good luck!
UPDATE on August 17:
The winner is Maria D.! Thanks for entering, everyone. 😀