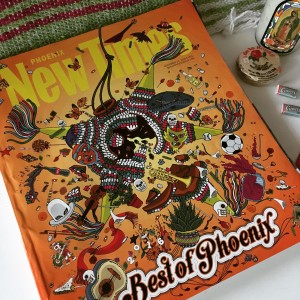 I've felt so honored lately to have been part of two memorable projects. The first was as an assistant for this year's Best of Phoenix, an annual issue published by Phoenix New Times that celebrates all that is great in the Valley of the Sun. It's a huge project—the issue comprises several hundred categories, along with essays and as-told-to pieces, and my responsibilities included organizing copy, fact-checking the issue, and preparing lists and slideshows for the website.
Best of Phoenix has a different theme each year, and this year the theme was Border Town. We are a mere two hours from the border of Mexico, after all, a fact usually associated with scathing talk of separation and building walls. I can't express how much it means to me, especially in a year like this one, to have contributed to a publication that embraces and pays tribute to the influences of Mexican culture in its city.
I've stayed silent online about the ugliness plaguing my country, not convinced that adding to the toxic mess on social media could possibly make a positive difference (and suspecting that fueling the fire would only make it worse). But inside, my heart has been hurting; too often these last several months I've felt hopeless, struggling to come to terms with the increasing awareness that we are surrounded by hatred, willful ignorance, and rampant racism. Thanks to social media, we know it's in our families, our friends (or those we once considered friends), our co-workers—it is everywhere.
Anyway, you won't find it here. Best of Phoenix was published last Thursday; if you're local, hopefully you grabbed a copy, but you can always browse the issue online. There are wonderful essays, published in both Spanish and English, from gifted writers like Arizona's inaugural poet laureate, Alberto Rios, and dozens and dozens of categories acknowledging, with pride, the best of Mexican culture in Phoenix.
The other project I'm excited to be a part of is Hospital Drive's first anthology. Hospital Drive is the literary journal of the University of Virginia School of Medicine; they publish poetry, prose, and original art dealing with themes of health, illness, and healing. Four years ago this month, they accepted my short story "The Distance Ratio," a semi-autobiographical piece about a single mother putting herself through nursing school by working at a job that is painful to her, and how she tries to cope with the pain.
Last January, Hospital Drive's managing editor emailed, explaining that they were putting together their first print edition, a collection of what they considered their best work since the journal's founding in 2007. They wanted to include "The Distance Ratio." This week, I received my copies.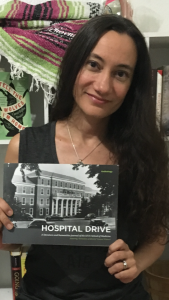 The anthology can be read online here; however, the print edition is only $5, and it's so much nicer having a physical copy. The pages are filled with incredible artwork, moving poetry, and half a dozen works of prose from thoughtful and talented writers. It's truly an honor to be among them.
Click here to purchase a print copy of Hospital Drive's first anthology, and help support a literary magazine. You'll receive several hours' worth of great reading and a year's worth of good karma. Really.